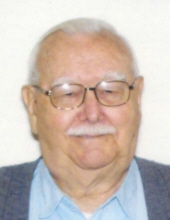 Obituary for Dr. Cecil Miles Massie
Cecil Miles Massie, age 91, of Westminster, passed away on Monday, August 20, 2018 at Carroll Hospital Center after a brief battle with cancer. Born April 6, 1927 in Nelson County, VA, he was the son of the late Walter and Sallie Massie. He was the husband of Virginia H. Massie, his wife of 68 years.
Cecil served in the U.S. Navy in World War II, was a life member of V.F.W. Post 8806 of Union Bridge and a member of American Legion Post 31 of Westminster.
Cecil received his B.S. and Masters degrees from Virginia Tech and his Ph.D. from the University of Maryland with additional graduate work at Ohio State University, University of Georgia and Western Maryland College. Cecil retired after 40+ years in education, having taught in the public schools of both Virginia and Maryland (Elmer Wolfe, Taneytown and Francis Scott Key High Schools). He was on the faculty of the University of Maryland, College Park, for 21 years.
Cecil had been a member of the Lions Club International since 1956 with perfect attendance. He served on both the local and district levels, was a past district governor and received four special district awards. He was a progressive Melvin Jones Fellow and an Arnold Patz Fellow. He held offices in professional organizations at the local and state levels: served as president of the Maryland F.F.A. Foundation, served on the Carroll County Agriculture Center Board, Carroll County Fair Board, the Board of Governors of the Carroll County Farm Museum, and was a docent at the Farm Museum. He was formerly president of the Maryland Society, Sons of the American Revolution and was also a national trustee of the SAR. He served on the Board of Managers of the Maryland SAR and was president of the Westminster chapter. He served on the Board of Managers of the Maryland Society of the War of 1812, was a member of the Jamestowne Society and the St. Andrews Society.
Cecil was a member of the Westminster United Methodist Church where he taught Sunday school, served on the Official Board and sang in the choir. He was a Cub Scout master and a Boy Scout leader.
In addition to his wife he is survived by a son, Grant Massie and wife Nancy and grandsons, Carter Massie and Zane Massie and wife Hillary, all of Nelson County, VA. He was predeceased by a son, C. Miles Massie Jr., a sister and brother.
The family will receive friends at the Union Bridge Firemen's Building, Whyte & Locust Sts., 2-4 and 6-8 p.m. Sunday August 26. A Lions Club memorial service will be conducted by members of the Union Bridge Lions Club at 7:30 p.m.
In lieu of flowers memorial contributions may be made in Cecil's name to the Union Bridge Lions Club, P.O. Box 5, Union Bridge, MD 21791 or to the Hoff Barn at the Farm Museum (checks to the Carroll County Farm Museum, 500 S. Center St., Westminster, MD 21157 with Hoff Barn on the memo line).
A memorial service will be held in Nelson County, VA at a later date.
Previous Events
Visitation
Union Bridge Fire Co. Social Hall
8 W. Locust Street
Union Bridge, MD 21791
Visitation
Union Bridge Fire Co. Social Hall
8 W. Locust Street
Union Bridge, MD 21791
Memorial
Union Bridge Fire Co. Social Hall
8 W. Locust Street
Union Bridge, MD 21791
Lions Club Memorial Service