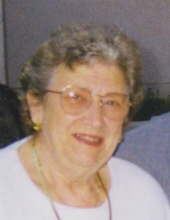 Obituary for Thelma C. Baltzell
Thelma Corrinne Baltzell, age 95, of Union Bridge, died Thursday, December 28, 2017 at Carroll Hospice Dove House, Westminster.
Born May 15, 1922 in Detour, she was the daughter of the late Loren Kyle and Marian Sophia Miller Austin. She was the wife of Donald Francis Baltzell who died in 1996.
Thelma was a member of St. Peter the Apostle Roman Catholic Church, Libertytown. She was employed as a secretary and bookkeeper for Farmers Fertilizer and Feed Co. of Union Bridge and following retirement was the church secretary at St. Peter's Church.
She was one of the founding members of the auxiliary of V.F.W. Post #8806 of Union Bridge and she and her husband took pride in organizing the post's Memorial Day observance and parade for many years. Thelma enjoyed reading, playing bingo, traveling and watching the Orioles.
Surviving are stepson, Noel Baltzell and wife Pat; granddaughter, Jennifer Caricofe and husband Mike, all of Pigeon Forge, TN, and nieces and nephews. She will also forever be remembered by the family of Detour neighbor, the late Melvin "Pete" Bostian: his wife Debbie, sons, Kyle Loren, Jeffrey and Michael, and Kyle's wife Becky and daughters Rachael and Sophia, all of whom she treated as "her family" since Pete was young. She will also be remembered by her friend and traveling companion, Ruth Zile. Special thanks to Cindy Pivar, Michelle Smith, and Betty Bowers, whose love and support made it possible for Thelma to stay in her home.
She was predeceased by a sister, Fay Maltagliati in 2007 and a brother, Robert Austin in 1945 in Okinawa.
A memorial mass will be celebrated at 10:00 a.m. Saturday, January 6 at St Peter's Catholic Church with Rev. Fr. Gene Nickol as celebrant. Inurnment will follow in St. Peter's Cemetery.
There will be no visitation at the funeral home.
In lieu of flowers, memorial contributions may be made to V.F.W. Post 8806, P.O. Box 55, Union Bridge, MD 21791 or to Carroll Hospice, 292 Stoner Ave., Westminster, MD 21157 or to St. Peter's Catholic Church-Libertytown, 9190 Church St., Union Bridge, MD 21791.
Cemetery Details
Location
St. Peter's Cemetery
9201 Church Street
Union Bridge, MD 21791