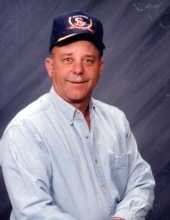 Obituary for Charles Richard Stambaugh
Charles Richard Stambaugh, age 68, of New Windsor, died Tuesday, September 19, 2017 at Seasons Hospice of Sinai Hospital, following a sudden illness.
Born April 23, 1949 in Frederick and growing up in Bark Hill, he was the son of the late Kenneth Edward and Ethel C. Buffington Stambaugh. He was the husband of Jan Roop Stambaugh, his wife of 17 years.
Charlie was a 1967 graduate of Francis Scott Key High School and in 1969 he was drafted and joined the Army serving in the 511th Engineers. In early 1970 he was sent to Vietnam and was honorably discharged in November. He was awarded the National Defense Medal, Vietnam Service Medal and Campaign Medal, and 1 OS Bar. In 1973 he started Stambaugh's, Inc. on his own with only a rubber-tired backhoe and trailer. Through the years the business grew to 140 employees until they downsized in 2011 with the decline of the economy. He was one of the first to have had metered mobile concrete trucks and front discharge mixer trucks in the area. While he was owner and president of the company, he was a "hands on" skilled equipment operator, truck driver and laborer. He never asked anyone to do something that he would not do, except climb ladders to tall heights. He also opened Stambaugh's Rental and Hardware, as a convenience to the community. He added farming to his working career and enjoyed grain farming with his brother, Barney. In later years he and his wife bought a farm, Char Jan Enterprises, focusing on beef and grain.
He was a member of the Union Bridge Church of the Brethren; American Legion Post 120, Taneytown; 39th Engineer BN; Carroll County Vietnam Veterans (raising money and helping to erect the Vietnam Memorial on Court Street in Westminster); and Carroll County Farm Bureau. He was a life member of VFW 8806, Union Bridge; Littlestown Eagles; Vietnam Veterans of America; and was an honorary life member of Carroll County 4-H and Union Bridge Fire Company. Never missing a class reunion, he was on his class alumni reunion committee and next month would have celebrated their 50th anniversary.
In earlier years he enjoyed riding his Harley and golfing. He loved working everyday of the week, heavy equipment auctions, his time spent on the farm, and his family pets. He had a real softness torwards all living creatures and was both giving and generous to the community.
His favorite songs were God Bless the U.S.A by Lee Greenwood and My Way, sung by Elvis Presley. He lived by two quotes and referred to them often; "Like the Amish, WE WASTE NOTHING!" "Tough times never last, but tough people do."
In addition to his wife, he is survived by daughter, Shannon Franklin and husband Justin of Westminster; sons, Ryan Stambaugh and wife Amy, Ian Staley, Evan Staley and wife Lucy, all of Union Bridge; grandchildren, Grady and Josie Dell, RJ and Jena Stambaugh, Emery and Wesley Staley; sisters, Dawn Phipps and husband David of Littlestown, PA, Laura Zepp and husband David of Westminster; brothers, Jerry Stambaugh and wife Beth, Steven Stambaugh and wife Susie and Barney Stambaugh and wife Debbie, all of Westminster; sister-in-law, Sheri Stambaugh of Tenn.; aunts, uncles and many nieces, nephews and cousins.
He was predeceased by granddaughter, Jolie Dell; son-in-law, Tommy Dell; and brother, Thomas Stambaugh.
The family will receive friends at Uniontown Bible Church, 4272 Watson Lane, Union Bridge on Sunday, Sept. 24 from 3 to 7 p.m. A funeral service will be held at the church on Monday, Sept. 25 at 10:30 a.m., concluding with military honors. Elder Dan Cartzendafner, Wakefield Valley Bible and Pastor Frank Taylor, Uniontown Bible will officiate. Inurnment will be in St. Paul's Lutheran Cemetery, Uniontown at the convenience of the family.
In lieu of flowers, memorial contributions may be made to Carroll Hospice, 292 Stoner Ave., Westminster, MD 21157 or Union Bridge Church of the Brethren, 124 S. Main St., Union Bridge, MD 21791.
Those choosing to send flowers may request delivery to be on Saturday, Sept. 23 to Hartzler Funeral Home, 310 Church St., New Windsor.
Previous Events
Visitation
Uniontown Bible Church
4272 Watson Lane
Union Bridge, MD 21791
Service
Uniontown Bible Church
4272 Watson Lane
Union Bridge, MD 21791
Memorial Contribution
Carroll Hospice
292 Stoner Avenue
Westminster, MD 21157
Union Bridge Church of the Brethren
124 S. Main St.
Union Bridge, MD 21791